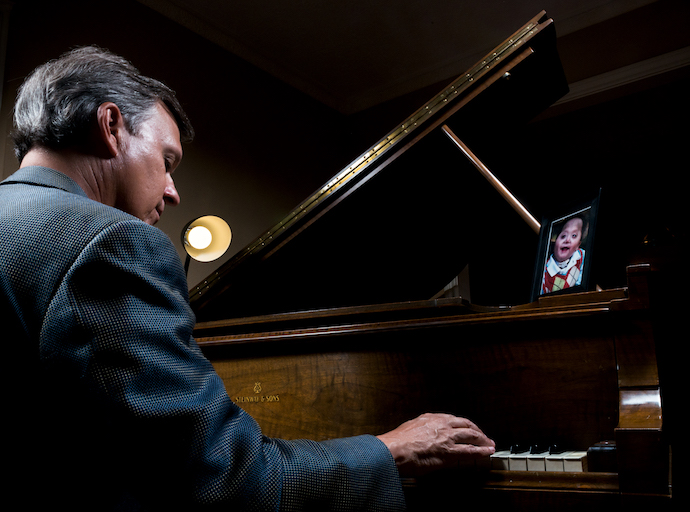 Mournful music
Two weeks before his son, Jared, was born, Jon Dahlander was at the Lakewood Theater hosting his third CD release party. A self-taught pianist, Dahlander was excited to welcome his first child in 2000 and wondered what kind of music fatherhood might inspire.
Within a month, Jared was back in the hospital. The doctors diagnosed him with "failure to thrive." They put a button feeding tube in his stomach, which nourished Jared for the rest of his life. That was the first of 20 surgeries and countless hospital visits Jared experienced before his untimely death in 2014.
Throughout Jared's short life, he never spoke. But he smiled and giggled often when Dahlander wheeled him over to the piano to play for him. "Songs for Smiler McGee," an album that honors Jared's memory, was released this year — the first album Dahlander has made since his son's birth.
 Early in his son's life, the Preston Hollow neighbor relinquished the hope of ever making an album again. In 2002, Jared was in the hospital from the Fourth of July until Thanksgiving.
"I was trying to nurture my little piano career, but it was impossible," Dahlander says. "There was no time for piano; there was no time for friends; there was no time for anything except for trying to go to the day job in the morning, go to the hospital at night, and come home exhausted. It was like Groundhog Day over and over and over."
 Dahlander and his wife, Heidi, had taken Jared on a family trip to Maine when he was hospitalized. A photo Dahlander snapped of the sunset near their vacation home graces the cover of "Songs for Smiler McGee." It's reminiscent of the commitment they made during that grueling year.
"We decided, we're going to live Jared's life as best we can, and every day we would say, 'Thank you, God, for every breath Jared took and every smile he gave,' " Dahlander says. "When you pray that prayer every day, it changes your life again and allows you to focus on the things that are most important — not just with him but with every person you come in contact with."
For years, Dahlander focused on being a father to Jared and later to his daughters, Ava and Chloe. In 2007, Dahlander read an article about the music streaming service Pandora and, on a lark, sent the company his music. He knew they were playing it but had no idea how much until he discovered SoundExchange, which tracks online internet plays.
"Out of the blue, I get a check for like $2,000," Dahlander says. "I thought, 'Whoa! That's more money than I've ever made for piano stuff!' "
He emphasizes that he's not a virtuoso. Dahlander took some lessons as a child, but much of his early piano education took place at the Ardmore, Okla., YWCA. He was a television photographer covering a story there, spotted their beautiful piano and asked if he could play on nights and weekends. They always kept a door unlocked for him, and he spent long hours practicing in the dark.
It gave him enough confidence to walk into the Polo Grill and ask if they needed a pianist. The manager didn't have anyone on Sunday nights and offered to pay Dahlander in meals. He enthusiastically accepted.
A few years later, a label offered him a contract to create three CDs, but he turned it down because they insisted on calling it "Afternoon Delight." The offer gave him the courage to call Dallas-based label Carpe Diem Records, which produced the likes of Pop Poppins, Café Noir and Rhett Miller, before he joined the Old 97's. Carpe Diem offered Dahlander the same three-CD deal and gave him control over the project.
 The CDs had some good reception regionally, but in the pre-internet era, labels didn't have much ability to promote their projects elsewhere. The digital era and the streaming services that followed paved the way for Dahlander's music to have a broader reach.
Knowing that people were listening to his music rekindled his energy to play the piano. Jared was doing better, and Dahlander played for him more and more. The music would calm his son and put a smile on his face.
It was therapeutic for Dahlander, too, giving him a chance to create something and take his mind off of
things. He funneled his emotions through his fingers.
A song on his new album titled "Father's Day" channels the pain Dahlander associates with the antithetically happy holiday. Fighting tears, he recounts the story of the beginning of the end of his son's life.
"It's the one day out of 365 that I get to take a guilt-free nap, and I don't want to be disturbed during that nap. But on Father's Day 2014, I was awoken from my nap by Heidi saying, 'I'm so sorry to wake you up but something's wrong with Jared,' " Dahlander recalls.
They took Jared to the emergency room and learned that his kidneys were failing. For the next two-and-a-half months, Jared was in and out of the hospital until his death.
"You go through a whole other set of emotions," Dahlander says of his son's death. "I internalize and try not to lay it all out there for everyone to see, so it has to go someplace.
 "It's like waking up after an extraordinary dream and taking stock. I'm a little bit wiser; I'm a little bit sadder, but I'm here, and I need to make some sense of that."
 Dahlander calls the album a "record" because it's "a record of where I was at a certain point in time," he says. The project was a release, which is also the title of the song that follows "Father's Day." It came to him after a nap, about three months after Jared's death.
"I realized I was at this point of starting to come to terms with everything that had happened," he says. "I was releasing the emotions and releasing him. I can't hold on any longer. It's really an important song for me."
Not all of the songs were composed after Jared's death. Dahlander is currently the Highland Park ISD chief of staff, but he spent years at Dallas ISD working in the communications office. "Far Beyond Words" came to him when he was the DISD spokesman and two tragic student deaths occurred in a single day.
"In the job, you have to deal with the situation, and you have to help a school community heal, and you have to communicate to everybody what's happened," he says. "When I came home, the music had to come out somewhere. Part of it is, how do you explain to a mother her child has died and that awful sense of loss."
A cover of the ancient Irish hymn "Be Thou My Vision" was included on the record because it was played at Jared's funeral. "Odd Job" is a whimsical tune, the kind that made Jared smile and giggle. "Faith and Grace" are the middle names of his daughters, Ava and Chloe.  "Until Then" poured out of Dahlander after the funeral of a friend, and once Jared died, it took on a whole new meaning. The opening song, "Light of Day," is one that makes Dahlander simultaneously happy and sad.
The entire record is one of mixed emotions. Some songs are joyful, some peaceful, and some mournful, but most contain a range of feelings, an acknowledgment that life is not either-or but both-and.
The pain of losing Jared never fully leaves Dahlander, but neither does the joy his son gave him. Children like Jared, Dahlander says, are teachers.
"They teach us what's important about the world around us, give us perspective about things you run right past because you're busy doing your day-to-day stuff," he says.
"We have a choice every day in the way we respond to life. We can go through life bitter or make the most of every day."